Through face-to-face and digital interaction with customers,
we maximize the joy of owning a vehicle and the delight of
using one.
[TOYOTA Connected's Business Domains]
By interacting with the customer both "face-to-face" and "digitally," we provide total support from when the purchase of a vehicle is considered until the customer takes possession, and also for every value chain related to the ownership period, in order to provide the ultimate customer experience.
Additionally, in the new vehicle-related business domain known as MaaS*, we are creating new services that maximize the delight of using vehicles.
TOYOTA Connected's strengths, "cutting-edge information technology" and "Toyota's kaizen process," are the starting point. This allows us to accurately identify the needs of customers and create advanced services that will lead the way in this new era. Going forward, our activities will be focused on maximizing the joy of owning a vehicle and the delight of using one.
MaaS: An abbreviation for Mobility-as-a-Service. This is a means of satisfying mobility demand that differs from the " conventional paradigm of owning a vehicle" in order to use it.
Connected
Vehicles are moving toward becoming another "social system" that will further enrich people's lives.
[A Connected Society Created by TOYOTA Connected]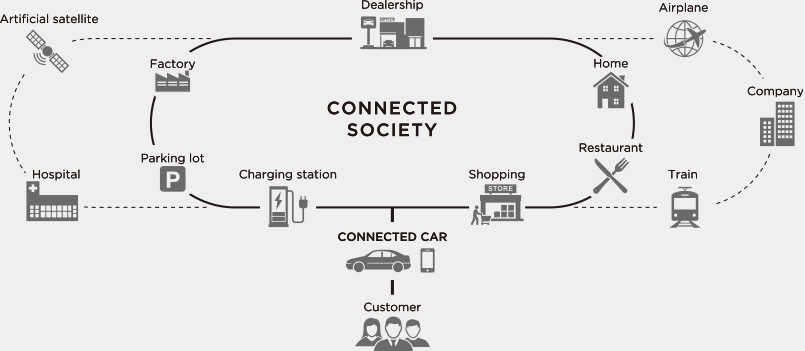 The automobile industry is said to be entering a "once-in-a-century period of transformation."
As IoT (the Internet-of-things) permeates society, vehicles are also undergoing technological innovations in new areas, including computerization, automation, and the switch to electric motors. As these innovations continue, the very concept of the vehicle itself is going to undergo major changes. The values of the people who use vehicles are changing as well. Until now, people would "own" a vehicle in order to benefit from its "value as a means of transportation," but with the changing of the times, a shift toward "usage," through concepts like car-sharing and ride-sharing, is occurring.
By connecting vehicles to a network, what used to be merely a means of transportation becomes a way to provide drivers with various services to improve safety, security, comfort, and convenience. The big data gathered from all these vehicles is also used in a variety of ways that benefit the local community.
The vehicles of the future will be expected to "enrich people's lives even further by connecting with the city and services of every kind as part of an overall social system."