MSPF (Mobility Service Platform)
MSPF is an open platform developed by Toyota Motor Corporation and TOYOTA Connected that provides a variety of functions for mobility services. Vehicular big data gathered by Toyota's connected vehicles is safely and securely managed by a special cloud service developed by us. MSPF offers a variety of APIs for vehicle management, authentication, etc. to enable effective use of vehicular big data. This platform is showcased by the companies we provide it to, such as ride-sharing and car-sharing companies and insurance companies, who can provide joint services that combine vehicular data from Toyota and Lexus.
Going forward, MSPF will be utilized for mobility services, such as e-Palette, car-sharing, and ride-sharing, as well as telematics insurance, through partnerships with diverse service companies.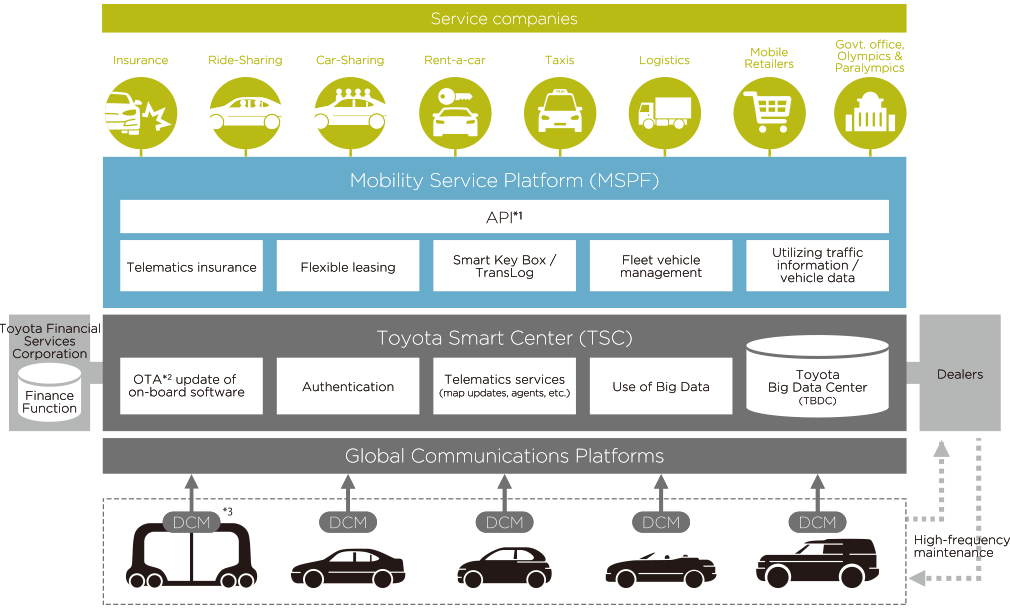 An API is a set of subroutines used to program software using an API makes it possible to call up the original program and use it to develop software that integrates all of its features and functions.
OTA stands for "Over The Air". It refers to the updating of software via wireless communication systems.
DCM stands for "Data Communication Module," and refers to a dedicated module used for communicating data.
Location Based Service
Location Based Service is API service that you can use these features such as Map, POI search, Traffic Information and Route Guidance etc.
Our service utilizes various big data collected from connected cars, and you can use this service to drive efficiently and comfortably. More features will be added.

API An API is a set of subroutines used to program software using an API makes it possible to call up the original program and use it to develop software that integrates all of its features and functions.
SDK An abbreviation of "software development kit" and refers to a set of tools (including API libraries, sample programs, technical documentation, etc.) necessary for developing a specific software.
SKB (Smart Key Box)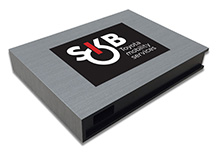 This is an onboard device that implements safe and secure door locking/unlocking and engine startup for car-sharing. Simply by installing the SKB device in vehicles, the key needed to borrow a vehicle can be transferred to a smartphone safely and securely. The vehicle's user operates a smartphone app to receive an encryption key and is then able to authenticate the encryption key by bringing that smartphone close to the vehicle in order to lock and unlock the doors. The period during which the doors can be locked and unlocked is established and controlled by the car-sharing center in accordance with the user's reservation details.
The engine startup function is initially being promoted outside Japan.

BLE (Bluetooth Low Energy) is an extended specification of Bluetooth short-range wireless communication technology, and allows transmission using ultra-low power.
Usage examples
Getaround's car-sharing service

Since 2017, TOYOTA Connected and Getaround have been working on a demonstration program involving SKB and Getaround's peer-to-peer carsharing service in California, USA, which boasts over 500,000 members (as of October 2016).
TOYOTA Rent a Car unmanned car rental service

TOYOTA Rent a Car operates a demonstration program for a car rental service that can operate without any staff 24 hours a day, 365 days a year.
Users use a smartphone app to reserve cars and lock/unlock rental cars. As a result, there is no in-store procedure to carry out, and vehicles can be rented and returned any time at the customer's convenience.
TransLog

TransLog is a telematics service that assists with vehicle operation control for corporate customers that lease vehicles.In 2010, Toyota made improvements to G-BOOK BIZ, its telematics service, and began deploying it at TOYOTA Rent a Car locations in January 2016. The company offers services with greater applicability to customer needs by adding several new services to those previously offered (such as daily driving report auto-creation, safe/economic driving diagnosis, and dangerous driving warnings): Eco Drive Support and Fuel Economy Management, which is useful for improved fuel economy, Dangerous Behavior Records, which allow the driving status of a vehicle to be checked using the drive recorder function with the integration of video and other map data, and Vehicle Tracking and Tracing, which can be used for attendance management and reviewing work responsibility areas.
[System composition]