"e-CRB (evolutionary Customer Relationship Building)",
a support service for dealerships' customers
e-CRB is a CRM framework that builds stronger connections between customers, dealerships, and manufacturers in order to build long-term trust-based relationships with customers. Utilizing the management methods and kaizen expertise based on TPS (Toyota Production System), which was developed by Toyota Motor Corporation, it lets us achieve highly efficient, high-quality dealer operations that include dealer visitor follow-up, business negotiations, and even customer relation activities and after-sales service following vehicle delivery. At present, it has been adopted by ten distributors in eight countries, and a merger of e-CRB with earlier DMSs is being deployed at model dealers for kaizen in Japan.
[e-CRB functions for dealerships]

New system cart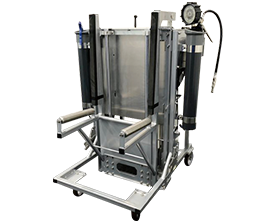 This third-generation system cart was introduced at Toyota dealers in February 2018. In addition to improving the efficiency and quality of inspections, it enables vehicle inspection tasks to be easily conducted even by older and female engineers. This unit can drastically shorten the lead time for work by offering the tire raising and lowering functionality as well as all necessary tools with proper tool arrangement, making it easier to complete tasks in a satisfactory manner.
"SLIM (Sales Logistics Integrated Management)",
a system to assist the management of sales logistics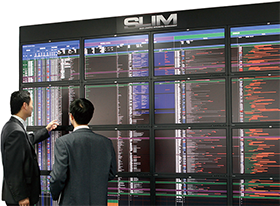 This system for managing sales logistics enables JIT (just-in-time) operations that integrate manufacturers, distributors, and dealers. Existing vehicles undergoing the process from production and distribution to sales can be visualized on large monitors with icons for each individual vehicle. Distributors can track vehicles from the time production begins at the factory until they are delivered to customers by the dealer, and the lead time and backlog in each process can be monitored.
Agricultural IT management service (Hosaku Keikaku)
Hosaku Keikaku (meaning "harvest planning") is a cloud service that helps rice agriculture companies achieve efficient rice production. It takes the production management methods and process improvement expertise developed in the automotive industry and applies it to the agricultural sector, contributing to increased productivity.